Victoria Alexander reviews ADRIFT
Written by: Victoria Alexander | June 7th, 2018
It is harrowing and almost unbelievable. Woodley is committed, and this establishes her as a versatile actress willing to endure tough filmmaking.
I do not know how to swim, nevertheless, I once took a summer of intensive catamaran sailing lessons in New Jersey. The most important thing I learned was to stay away from the boom. The only time I have been in an ocean – while not on a massive cruise ship – was in the Kingdom of Tongo, when an instructor took me into the water to see a mother whale with her calf. I was terrified.
I get seasick easily.
Baltasar Kormákur loves stories of super-human survival pitted against nature. He directed the 2015 film EVEREST and apparently, the actors were not on hand only for the close-ups but endured the same savage conditions that real hardcore mountain climbers endure. However, in 2017, Everest climbers reported the most dangerous part of the climb to the summit, The Hillary Step, had disappeared. Totally vanished.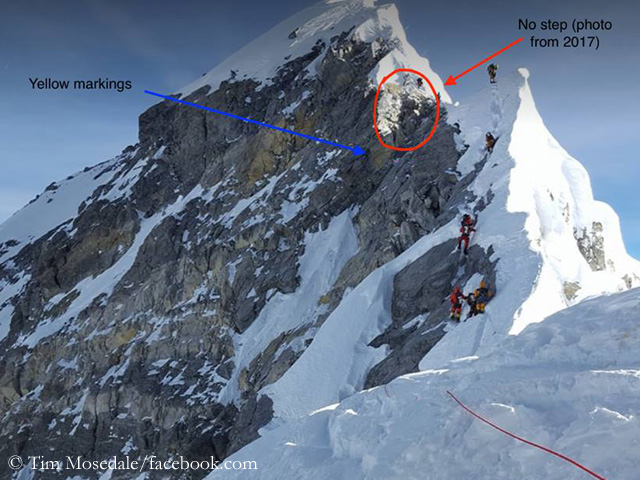 LINK – Once upon a time … the Hillary Step
However, the disappearance of The Hillary Step makes summiting easier and a lot faster. No one in the climbing community will say it, but I will. Coincidence or did someone take advantage of the disaster by getting rid of a nasty piece of rock?
The most important thing for the agencies who run "ultra-rich men's" trips to Everest is getting their people to the summit. That's the glory. Sherpas are given big bonuses when their guy makes it. If more people summit, it's an economic boon to everyone. In 2015, a magnitude 7.8 earthquake killed nearly 9,000 people in Nepal and 21 climbers died in an avalanche at Everest Base Camp.
For Kormákur's next feature, he tackled water, ocean water. He filmed scenes for ADRIFT in the ocean for over 49 days. Kormákur was a sailor when he was younger, so he knew how to tack and make a bowline knot. Regarding filming ADRIFT, he said: "And water in the tank doesn't look anything like the sea, you know? We spent almost as much time on the ocean as the real people did, and it's done to prepare them physically and mentally. And we pretty much shot in sequence as much as possible, because among other things, they start to lose weight."
ADRIFT is "inspired" by the true story of wanderlust, free-spirited 23-year-old Tami Oldham (Shailene Woodley) and her sailor fiancé, the much older, experienced Richard Sharp (Sam Claflin). They are hired to take a beautiful, well-equipped yacht from Tahiti to San Diego via the Pacific Ocean. After being on the ocean for nearly a month, they would sail into the deadliest hurricane in recorded history. I would say this ranks right at the top or maybe is the top of survival stories.
[Though I read a harrowing book of survival – of a very different kind of survival – that would rank number three in the ranking hierarchy.]
Tami and Richard survive but Richard has been gravely injured. Tami must do everything herself to get them to shore. It would take 41 more days.
Woodley is absolutely amazing. It's hard to believe she sought out this very tough physical role. And, essentially, their survival is all up to Tami. Tami must handle everything herself as well as nurse Richard.
Knocked unconscious from the yacht taking a beating during the hurricane, Tami wakes up and sees a barely alive Richard clinging to a raft. She gets him onboard and sets his badly damaged leg. Richard has massive internal injuries and cannot stand up.
Athletic Woodley has a youthful, strong body which gives her the ability to repair the badly damaged yacht, get it moving and handling the rough waters. This role was not a Sunday walk in the park. And since Woodley was on a functioning boat in the ocean, she had to grapple with the massive sails and the constant rocking.
For an actress, the role set up layers of grief and despair and, significantly, the absolute dread of never being rescued and dying of starvation. The harsh conditions showed, as Tami's skin becomes sunburnt and then scarred by the sun. Unless you have read Oldham's book, Red Sky in Mourning, the twist – a twist currently in vogue – is startling.
As for Claflin, the "heartthrob" arrived in Fiji at 210-plus pounds. He admits he was "fat." Confident he would lose the weight quickly, Kormákur helped his process by making sure cast and crew were inadequately fed.
Since Woodley and Claflin filmed on the open ocean for 15-hour days off Fiji, a "making of" should be in the works. For Woodley and Claflin, ADRIFT proves they are adventurous, committed actors willing to endure non-movie star working conditions. So far, there have been no leaked tales of temper tantrums.